TEMPLATE
Vacation Request
Replace your manual vacation approvals process with a fully automated, digital version that doesn't miss a step.
Try for free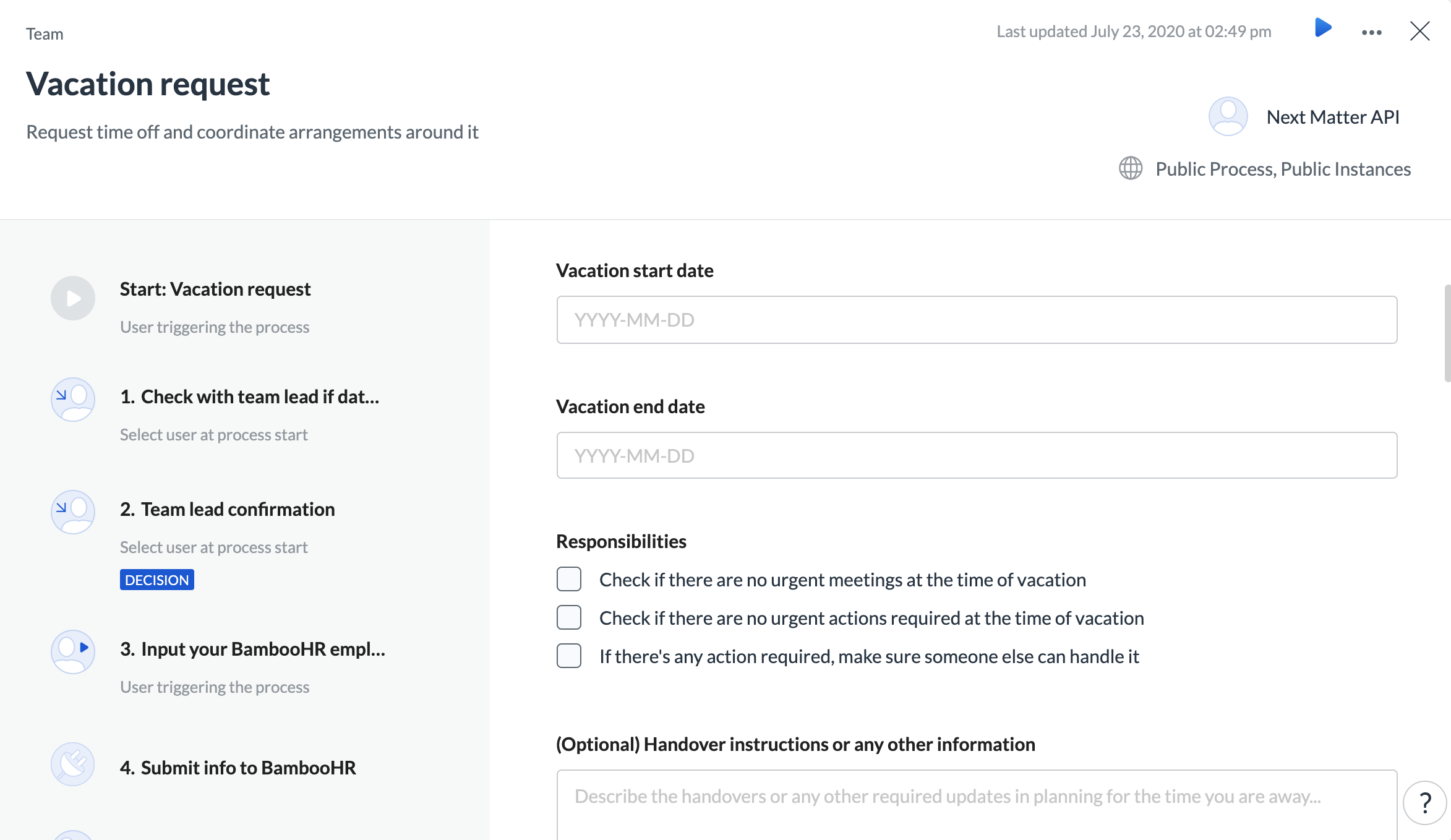 Automate vacation requests in 5 easy steps
Employee submits request and provides context (Calendar, Project Mgmt tool)
Manager reviews and approves request
HR processes vacation request (Personio, BambooHR, etc)
Define coverage while employee is absent (Slack, Calendar)
Documentation finalized and team calendar updated (Slack, Calendar)
Business best practices applied in this process
Connect time-off requests to your HR system
Vacation requests are synced automatically to your core HR system so that the information from each digital request – name, the dates out of office, the type of time off requested, etc – is automatically populates within the HR system This ensures your HR database is always up to date, even if team members forget to update it.
Make the process easy and error-proof
An efficient online request form is user-friendly, but comprehensive at the same time. To prevent oversight for both managers and employees, this process includes vital, supporting detail fields, including current projects and deadlines, emergency contact info, and designated cover appointment during absence.
Notify appropriately and automatically
At every step of the process, appropriate notifications should be set up to alert the right people. By sending automated notifications, it's no longer necessary to waste time manually emailing, or wondering if everyone is "in-the loop". Just submit your decision in the process, and leakproof notification is sent instantly to all designated stakeholders.
Why teams love it
"Taking time off doesn't have to be stressful and having a well-defined, digital process makes it so much easier. With all of the necessary info and details available in one view, I only need a minute or so to review and decide on each request"
Customer Success Lead
"I used to make vacation plans and not even consider the full impact of my time out. Now, I use the digital process as a part of my own vacation planning. It reminds me automatically of all the extra things I need to consider before even deciding when vacation will be viable for me. And once I figure that out, click submit, and boom!, I'm done."
Product Marketing Manager
"Without a proper structure in place, how can you ensure a consistent time-off policy at your company? That structure and policy is so much easier to maintain when you have a digital process supporting it. It's fully transparent, so there is no opportunity for misunderstanding, bending the rules, or forgetting them outright. Much more democratic and A LOT less stressful."
Head of HR
Other templates that might interest you
Ready to increase your operations efficiency?