TEMPLATE
Recruitment Process
Attract, evaluate, and convert your best talent with a stress-free recruiting and hiring process that integrates with your HR operating system
Try for free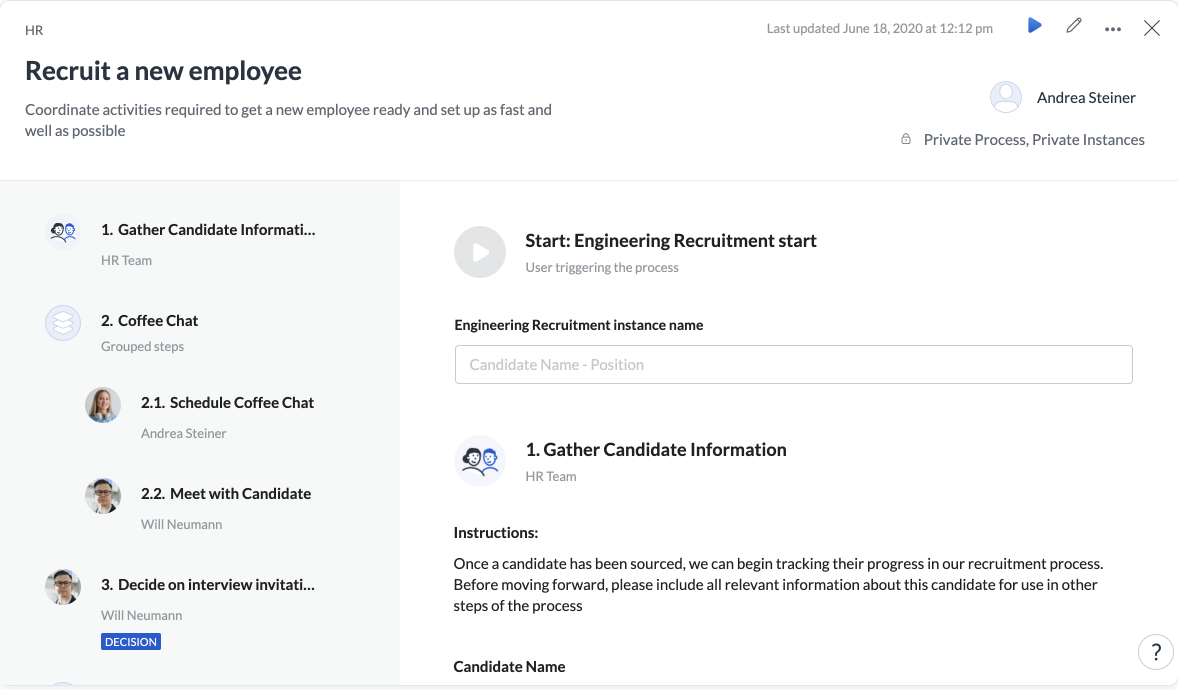 End-to-end recruitment in 5 complete, integrated phases
Prepare role, setup and launch candidate sourcing (create job description, upload JD, post job listings, etc)
Collect basic candidate information for all stakeholders (CV, references, motivation letter, portfolio, etc.)
Screen candidate against role requirements and prepare decision to interview
Plan and conduct interviews, gather feedback and progress to next stage with final round candidates
Create offer, orchestrate follow-ups and contract signing, and handover to onboarding workflow.
Business best practices applied in this process
Clear instruction = less confusion
Centralize and automate knowledge sharing using process steps, including candidate information, interview feedback, and stakeholder decisions. Less time spent following-up equals more time focused on finding quality candidates.
Keep it a stress-free experience
Keep your team communications consistent, explain the process in detail, and be transparent about upcoming steps to ensure a less stressful and more genuine candidate experience.
Be fast, but thorough
Recruiting doesn't have to last a lifetime. Use scheduling and notifications to keep stakeholders on track and accountable, and keep progress moving to get to the right candidates faster.
Why teams love it
"After three full rounds of interviews, I felt extremely confident that our finalist candidate was absolutely the right one. And because the process was so incredibly smooth, the candidate felt the exact same way about joining us."
TECH LEAD - HIRING MANAGER
"The thing I value most about potential new hires is the 'get shit done' attitude. Automating our recruiting process was a natural fit for attracting candidates like that."
RECRUITING MANAGER
"Cultural fit is paramount for us. We needed a system to evaluate candidates as their most authentic selves - not distracted by the stress of the process. By automating the coordination, we freed up our candidates and internal stakeholders to show up as they normally would: as themselves."
HEAD OF HR
Other templates that might interest you
Ready to increase your operations efficiency?