TEMPLATE
Freelancer Onboarding
Get more productivity out of your freelance contracts and stop wasting time on administrative back-and-forth.
Try for free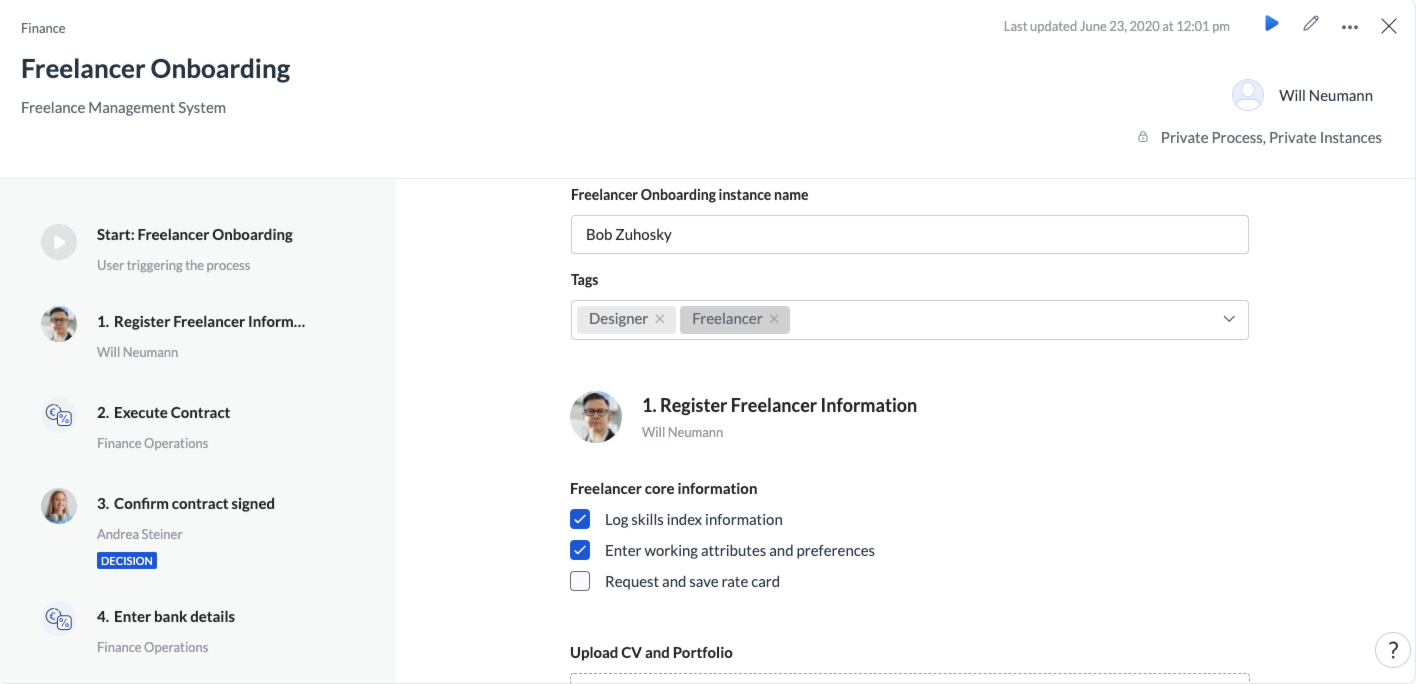 End-to-end freelancer onboarding, from portfolio to payment
Register basic information (contact info, skills index, work preferences, CV, portfolio, rate card)
Negotiate, sign, and save contract (DocuSign, PandaDoc)
Enter bank details (QuickBooks, accounting software)
Schedule function-specific trainings
Prepare work station (optional)
Business best practices applied in this process
Define across-the-board requirements
Spend the time up front working out exactly what your company needs to know about each freelancer at the start of your relationship. Include it in your process, and never suffer from missing information.
Work quickly to get results faster
With steps and requirements clearly defined in the process - as well as paperless documentation end-to-end - you won't be spending any more time on administration. The faster the freelancer is onboarded, the sooner your company can begin benefiting from their work.
Be function-specific
If you plan to employ freelancers for a range of tasks and specialties, consider creating a version of this process template for each type of freelancer you onboard, to make the onboarding as relevant and effective as possible.
Why teams love it
This process really gave my team leverage and structure. Before Next Matter, they we constantly chasing after team leads to get information on their freelancers - just get them paid! Now, the expectations are clear, and the process usually takes less than a business day end-to-end.
Head of Finance
"I had no idea how much time I had been wasting onboarding copywriters and designers…until I wasn't wasting it anymore."
Sr. Content Manager - Marketing
Other templates that might interest you
Ready to increase your operations efficiency?